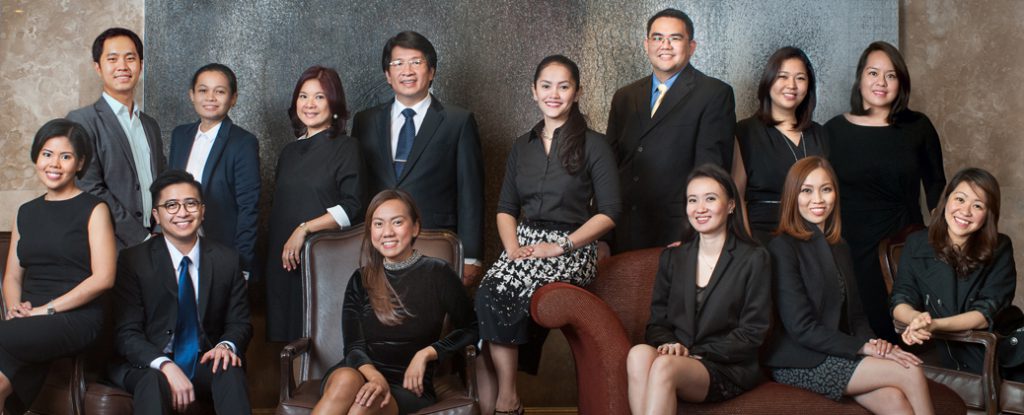 ---
Jose Maria Martin P. Aldecoa
Group Brand Manager Red Ribbon Bakeshop, Inc.
Mansmith YMMA Awardee for Brand Management
Mari's passion for growing brands has translated to an exceptional track record of strategic and disruptive brand leadership at Red Ribbon, achieving breakthrough growth and reaching unparalleled heights in the brand's 35 year history.
In his two years handling Red Ribbon's total cakes business, Mari has been instrumental in the radical shift in the way Red Ribbon does its marketing. Under his leadership, marketing efforts for Red Ribbon cakes have become more focused and moved towards identifying, developing and building flagship products.
To grow cakes, the following strategies were established: 1) Identify a focused source of business, 2) Open its other cake formats with high demand—rolls and squares, 3) Establish, commit and build flagship cake products, and 4) Manage the cakes portfolio by identifying differentiated celebration occasions for usage per cake format to ensure no cannibalization and growth across all segments. The specific strategies were applied per cake format namely, rounds, squares and rolls.
The Rounds Category was set to own highly special occasions or once-a-year occasions such as Valentine's Day, Mother's Day, Father's Day and Christmas. Black Forest was built as the round cakes' flagship product for these occasions via the development and launch of limited-time offer Black Forest cakes with tweaked designs throughout 2012 and 2013 that would match these occasions (ex. Heart-shaped Black Forest for Valentine's).
In the Squares Category, they identified the category to have the highest consumption occasion during birthdays at 76%. With the objective of owning birthdays via Squares, Mari led the team to innovate and launch a square birthday cake that would have the features of an ideal birthday cake, as defined by consumers. This was an innovation which competition did not have and hence offered a value proposition consumers have not seen before in the square cakes market.
For the Rolls Category, Mari's challenge was to build on the chocolate taste superiority of their Chocolate Roll which was a top driver for the category. He led the team and partner agencies to create a campaign that would communicate that Red Ribbon Triple Chocolate Roll was the chocolatier roll vs. competition, preferred by people you trust. Mari and his team developed communications materials featuring the most scrutinizing chocolate roll experts—real moms and kids—preferring and attesting to Triple Chocolate Roll as the chocolatier roll vs. the leading brand. This was a breakthrough execution for Red Ribbon as it has never been done for the category before.
Two years after implementing its flagship product marketing strategies, Red Ribbon's total cakes category grew by +42% and increased total Red Ribbon Cakes value share by 15 percentage points, all driven by the tremendous growth of the flagship products per cake format that were identified and built under Mari's leadership. The results show the merits and power of focused flagship marketing in outperforming a slew of more activities and new product launches.

---
Kristine Anne S. Bañez
Associate Regional Business Lead – North and South Luzon Johnson & Johnson Philippines
Mansmith YMMA Awardee for Advocacy Marketing
Kristine joined Johnson & Johnson's pharmaceutical arm, Janssen, in 2010 as Product Manager. Without any medical background, she was assigned in the highly technical and challenged area of Psychiatry, particularly the long-acting treatment portfolio for schizophrenia. Risperdal Consta had already been in the market for seven years but it remained to be a niche product with barely 1% market share as the real benefits of significant patient improvement and caregiver burden reduction seemed to not have been demonstrated to the larger physician population.
While in Janssen-Cilag Spain in 2011, she joined the team to launch the first monthly treatment for schizophrenia, Xeplion (Invega Sustenna in Europe). She returned to the Philippines in May 2012 with a strong sense to challenge the status quo. She identified three key areas to demonstrate that patient outcomes can truly improve and caregiver burden reduced: a) Awareness through the production of an independent film (Mga Anino ng Kahapon or Shadows of the Past), b) Advocacy through the pledge against stigma, and c) Access through local data generation (Into the Light Project) and mental health policy. This defined a clear framework to work within the complex web. She also looked for other sources of funding given that the usual brand budget would not be enough for the traditional marketing programs plus the three areas identified. Kristine pitched and won the 2012 Asia-Pacific Janssen Pharmaceuticals Innovation Award USD 150,000 to fund Mga Anino ng Kahapon and the 2013 Asia-Pacific Janssen Pharmaceuticals Innovation Award USD 300,000 to fund the Into the Light Project.
The campaign received internal recognition (2014 Global and Asia-Pacific James E. Burke Marketing Award, Diversity category, and J&J Leadership award) and achieved +331% sales growth for Invega Sustenna YTD Jan-Oct 2013 and continues to grow +9% YTD Jan-Oct 2014.
Thousands of people have been reached by Mga Anino ng Kahapon which won the 2013 Metro Manila Film Festival New Wave Section Special Jury Prize and was rated A (highest grade rating) by the Cinema Evaluation Board.
Moving as Senior Brand Manager to Johnson & Johnson's Consumer in October 2013, Kristine kept the same passion for her two focus brands – Sinutab and Benadryl – in the nine months that she led them. Despite the market being dominated by a strong local player, Sinutab registered +15% sales growth (internal sales, YTD Jan-Oct 2014), and +1 percentage point market share (IMS data, YTD Jan-Sep 2014). On the other hand, Benadryl educated not just the sufferer but also the rest of society where there is an unnecessary stigma versus allergies and sufferers due to incomplete knowledge about the condition. Without any traditional TVC vs. competitors, Benadryl achieved +11% sales growth (internal sales, YTD Jan-Oct 2014) and gained +1 percentage point market share (IMS data, YTD Jan-Sep 2014).
As of November 2014, Kristine has been appointed Associate Regional Business Lead for North and South Luzon for the combined Hospital Channel (medical devices and pharmaceuticals) of Johnson & Johnson. It not only rounds her up as a marketer and as a leader, but more importantly, gets her out there in the most basic way possible, to truly understand what the rest of the Filipinos not living in capital need. She is yet again grounded in challenging the status quo, where she has always believed in striving for significance beyond mere success.

---
Cherrie Rose A. Barretto
Country Manager Dragon Edge Group Indonesia
Mansmith YMMA Awardee for Business Development
Cherrie was assigned as a Country Manager in Indonesia since July 2012. She had a team of 8 Indonesians, half of which can't speak English. The company was operating on a day-to-day following the objectives of achieving targets, participating in events and ATLs. The office opened last 2009, and back then they were under an Indonesian company who was housing the team and the DEG brands. They were able to separate from their partner by November 2012, and that would mean starting their own company from scratch. This was the start of PT Lloyd Laboratories Indonesia. As the country manager, Cherrie had to create all the policies that would keep any company running in one consistent direction. Policies that would be used for important departments like HR, Supply Chain, Finance, Sales and Marketing – keeping in mind if these policies will be adaptable to Indonesian work culture.
Understanding the way of life in Indonesia is a constant learning for Cherrie. Living in the country helped her a lot in adapting to the culture. As the head, she is constantly faced with the challenge of doing business reviews with her counterpart managers that is way older than her plus more years of experience in the field – add to that the language barriers, values, and religion.
PT LLI (Dragon Edge Group Indonesia) now has 12 employees nationwide and Cherrie is currently leading the team in managing the top cities in Indonesia: Jakarta, Bandung, Surabaya and Denpasar Bali.
PT LLI has already tapped 2 categories in Indonesia: Baby and Sunblock category. For the baby market, Cycles was one of the first laundry baby detergents in Indonesia aside from Sleek and imported Pigeon products. Currently, there are 4 new competitor baby detergent products trying to penetrate the market. One of Cycles' strategies to maintain its market share is to stay focused in the premium segment. For the sunblock category, Beach Hut has already made it to Bali shores since late 2008. No major strategies were implemented back then except for participating as a sponsor in the Ripcurl International Surf Competition held yearly in Bali. Since the importation of sunblock products were improved, Cherrie and her team decided that it's about time to create awareness in the trade level. They deployed floor display racks that looked like a surfboard with Balinese patterns. The overall design objective was not only to catch attention of the tourists but also to touch and capture the local culture. These surfboard displays were deployed in top convenient stores like Circle K and Minimart, as well as in top retail stores like Ripcurl. They also introduced 4 new products that are currently making good contribution in sales for the whole Beach Hut line – the Beach Hut SPF100 100mL, SPF36 100mL, Tanning oil and Kids SPF100. Immediately after this implementation, Bali area alone grew by 966% in sales in 2014 compared with sales in 2013 (July to October same period).
Since Cherrie's arrival in 2012, sales for Indonesia grew by 112% (2014 vs. 2012 sales) and have achieved 46% average growth per year (2012 – 2014).
For Cherrie, the greatest experience is learning everything from ground level. She believes the opportunities in Indonesia are limitless and there are still a lot of innovations that can be implemented.

---
Tiffany Jane P. Batungbacal
Brand Manager Kenrich International Dist. Corp.
ansmith YMMA Awardee for Brand Management
Columbia Sportswear was initially marketed as a "family lifestyle outdoor" brand. After experiencing an extended plateau in sales and market interest in 2009, the brand was repositioned to cater not just to the family man who wanted to get out during the weekend, but to the adventure enthusiast who needed reliable products. The shift in the brand's direction effectively widened their customer base and established their credibility as a leader in outdoor gear and apparel.
To reinforce this position, she focused their below-the-line marketing efforts to include duathlons to engage the more hardcore adventure seekers. She put more emphasis on the various, patented technologies that Columbia is known for, by making these technologies a focal point in all their stores. They organized local activations that simulated conditions which allowed consumers and media to test the technologies of their products.
In conjunction with the brand's marketing communication, focus was given to train all qualified Columbia Sportswear sales associates. She created programs designed to integrate both theoretical and experiential training to develop confidence and credibility to the customers. The result of all these efforts is a growth in sales and over-all profitability for the next few years.
And then in 2011 to 2013, the outdoor industry experienced a dip in sales because 1) People were saving up to acquire real estate and vehicles, and 2) There were large brands that offered similar products which entered the market. The volume drivers of outdoor brands (e.g. fleece, gloves, beanies, etc.) were directly hit which resulted in loss of sales and excess inventory.
To resolve the high inventory problem, Tiffany partnered with select companies to develop promotions that benefitted their consumers, without compromising brand equity.
Another strategy was the launch of the "Trying Stuff" campaign. This campaign was initiated by its parent company in America but was tweaked to better suit the local market. The team introduced "Trying Stuff" as a lifestyle – a commitment to a life of constantly reaching beyond one's grasp to realize one's full potential. This campaign was integrated in all marketing efforts: above-the-line, below-the-line, and social media. Online marketing efforts were utilized to reach a more tech-savvy generation as well as promote various outdoor activities. Contests were created that increased awareness and encouraged active participation among the growing customer base. Brand ambassadors who lived out this philosophy were tapped, becoming aspirational models to many outdoor enthusiasts looking for a brand to deliver quality products and excellent service on a consistent basis.
This campaign succeeded in giving the brand a more diverse market, and Columbia Sportswear became not just an "outdoor" company, but a brand that met the needs of travelers and adventurers.
Columbia Sportswear experienced a sales growth of 35% because of the effective implementation of a cohesive and strategic business plan.
Navigating this brand through challenging economic and cultural situations entails thinking out of the box. For Tiffany, the biggest success was having the privilege of building a team of competent and dedicated individuals, and working with them to leave a legacy of change and adventure that Columbia Sportswear is all about.

---
Ann Nathalie D. Esteves
Sr. Brand Manager Unilever Philippines
Mansmith YMMA Awardee for Brand Management
Ann takes pride in creating brands that truly responds to the needs of the people they serve. Joining Unilever's Hair Care business enabled her to show her clear drive for winning, passion for understanding consumers, and dedication for creating sustainable growth plans. Despite being in one of the most competitive and cluttered categories, she was able to champion a unique point of view for her brands, while ensuring global mixes remained locally relevant.
With over 45 years of heritage, Sunsilk is one of the most iconic hair brands in the Philippines. In the midst of a challenging year, she steered Sunsilk's recovery starting with the task of reconnecting with the Sunsilk girl. Through numerous consumer immersions, Sunsilk rediscovered the needs of Filipinas for hair that stays beautiful and fragrant all day. This insight was brought to life by Sunsilk's Bangong Nakakagigil! Campaign. The communication idea aimed to show how Sunsilk can give Filipinas the beautiful and fragrant hair they've always wanted. Sunsilk brought back simple but recognizable elements girls love about the brand: bright colors and warm smiles of the hair experts, and even the fun in storytelling that captures every girls' ever-optimistic spirit. This propelled Sunsilk to double-digit growth for two years, making the Philippines, the fastest growing Sunsilk country in Southeast Asia. Sunsilk achieved its highest monthly penetration in more than five years and catapulted Sunsilk Pink as the #1 shampoo variant in shares, achieving the highest recorded share for a top-selling variant since 2008.
Ann also led the introduction of TRESemmé in the Philippines in Q4 2012. It aims to capitalize on an emerging middle class with more complex hair needs. The launch brought to life TRESemmé premium salon equity starting with a salon-driven innovation in Keratin Smooth. This innovation changed category paradigm by making one of the country's most popular salon treatments available in retail, and by extending shopper basket beyond just shampoo. TRESemmé created desirability amongst upscale consumers by using fashion and style to build interest. Over-indexing in use of digital and PR, the brand partnered with some of the biggest names in Philippine fashion and salon to unveil one of its biggest on-ground activations called TRESemmé Runway Ready.
In 2013, the brand grew by an impressive +1083%, and +53% sales growth on its second year. Shares in Modern Trade doubled, making it the leading premium player in department stores. TRESemmé also became the top Unilever hair brand in key Personal Care stores like Watsons and Landmark Department Store, and in e-commerce sites like Lazada and Zalora. TRESemmé Runway Ready activation achieved 550 million digital impressions, 11 million unique digital reach and 100% growth in Facebook fans for TRESemmé's page, yielding €227,000 in earned PR values.

---
Kathlene S. Gomez
Marketing Group Manager Bounty Agro Ventures, Inc.
Mansmith YMMA Awardee for Marketing Management
When Kathlene joined Bounty Agro Ventures, Inc. more than four years ago, the challenge was the very low Top of Mind Awareness of the Bounty Fresh brand among its target market and low sales in Chooks-to-Go stores. Through market research and trade checks, Kathlene came up with a strategy: launch Chooksie's Dressed Chicken, a new economy brand. Chooksie's was priced lower, distributed in Chooks-to-Go outlets, and targeted to middle-low income families. They differentiated Chooksie's from the premium brand of Bounty Fresh and came up with separate marketing strategies for each.
As a result, average daily sales of dressed chicken per store grew by 21% on the first year of launch of the Chooksie's brand. Total sales of dressed chicken grew by 25% by the end of 2012. Currently, Chooksie's products contribute approximately 25% of the total chicken sales in Chooks-to-Go outlets. Moreover, because of the introduction of the economy brand, the resulting positioning of Bounty Fresh chicken allowed it to gain momentum in further strengthening its image as the premium chicken brand, gaining a 35% increase in Top of Mind Awareness in the fresh chicken category among the AB market segment from 2012 to 2013. Brand usage also increased from 6% in 2012 to 39% in 2013.
Successfully launching a new brand in 950 stores across the country while reversing the trend of a dying brand became "the best execution of a launching activity" in the company's history ever.
While Chooks-to-Go was very successful in challenging the tradition – delicious-even-without-sauce roasted chicken concept, the company recognized that there is still a market for traditional litson manok eaters who preferred charcoal grilled chicken. This realization gave birth to Uling Roasters. While Chooks-to-Go catered to the more modern and experimental C and D market, Uling Roasters was positioned as the more traditional litson manukan with native flavors at a more affordable price that suited the lower socio-economic segments.
To capture the attention of the price-conscious target market, they launched Uling Roasters at a standard opening price of only P99. The success of the launch was so phenomenal that people lined up for one whole day. The brand has now grown to a total of 62 outlets in just more than a year and continues to expand.
Chooks-to-Go is also the first roasted chicken brand to offer a delivery service in Metro Manila. On top of all these innovations, Chooks-to-Go has received multiple awards that recognized its many achievements and innovations in the industry. True to its reputation as the innovator and market-driver of the roasted chicken industry in the Philippines, Chooks-to-Go launched the first-ever online ordering website for a roasted chicken brand in the country.
Chooks-to-Go and Bounty Fresh have launched innovative digital campaigns that successfully engaged and established a connection with its followers. These campaigns have helped establish both brands as the "most liked" brands in their own categories on social media.
Kathlene has risen to the creative challenge as a marketer, for unlike many multinational and global brands, Chooks-to-Go and Bounty Fresh do not enjoy the same huge advertising budgets. While conceptualizing brilliant marketing ideas is rare enough, the ability to perfectly execute an idea especially with limited resources and budget, and at a nationwide level – and in a country that's geographically challenging to manage – separates the marketers from great leaders.

---
Juliana Jessica Nina M. Inocencio
Sr. Brand Manager Unilever Philippines
Mansmith YMMA Awardee for Brand Management
Being able to work on Surf, a brand that had a strong legacy with Filipino women all these years and is one of Unilever's biggest pillars, was really a once-in-a-lifetime opportunity for Jessica. Listening to Filipino women's stories made her realize how she, as a marketeer, could make a real impact on their lives. Jessica made it her personal commitment to find a way to make a real difference in consumers' lives by creating extraordinary experiences from an otherwise boring laundry household chore.
The laundry category is a highly penetrated category, reaching almost 100% of total households. Surf's historic WAIS campaign had long established Surf as the "best value" brand in the country. Over the years though, with a plethora of trade promotions and more affordable laundry products coming into play, Surf's WAIS commitment needed to be redefined in the current market context. The intense competition from both low priced and premium laundry brands was a constant threat to the brand's market leadership.
On its 25th anniversary, Jessica spearheaded SurFiesta Campaign, a partnership with the country's top telecommunications company, SMART, and gave away FREE TEXTS with every Surf sachet, bringing the "value" of a simple laundry sachet to a whole new level. The joint efforts and tri-partite partnership between Surf, SMART and redemption partner Cebuana Lhuillier allowed more consumers to get involved in building a unique sachet recovery model. SurFiesta was Surf's most successful promotions generating consistent double-digit growth for two consecutive years via a highly unique promotions platform that drove brand penetration to new heights.
Surf's sachet redemption mechanic also paved the way for a sustainable sachet recovery program that would be the first of its kind in Southeast Asia. The joint efforts and tri-partite partnership between Surf, SMART and redemption partner Cebuana Lhuillier allowed more consumers to recognize the value of sachet collection and conversion. Over 11 million sachets were collected and converted to thousands of cement pavers that have benefitted several schools and communities in the Typhoon Haiyan areas.
To sustain the momentum that Surf Fiesta had brought, Jessica launched Surf Rose Fresh. The strategy was to solidify the brand's position in the consumers' minds that only Surf could bring a uniquely delightful experience with every pack—-not through price-offs, not through trade promos, but through a commitment to deliver great fragrances that could redefine day-to-day laundry. Surf Rose Fresh was one of the most successful launches in laundry, reaching double-digit share and quick to become the No. 1 sku in laundry.
Winning in laundry was not limited to powders. Forty percent of the category was in Bars and Surf had lost leadership in this segment. Jessica and her team aligned their proposition with powders, corrected their pricing strategy and implemented an aggressive distribution drive in regional areas where bars were most relevant. After three years, Surf grabbed leadership back with sustained double-digit growth since.
Surf solidified its leadership by finding unique opportunities to win amidst a highly competitive environment. Using basic human truths to redefine the laundry experience was key to cracking one of the most successful, not to mention sustainable, business strategies in the brand's history.

---
Joyce Nikola F. Joseph
Product Manager United Laboratories, Inc.
Mansmith YMMA Awardee for Brand Management
As then-Assistant Product Manager for SOLMUX in 2010, Joyce faced the challenge of turning around a business that was losing market share and had declined double-digit from prior year. SOLMUX' market leadership was challenged by a major herbal competitor's attacks on its safety, while commoditization by Generic Carbocisteine, which were priced at just 1/5 of SOLMUX' SRP, also threatened further its value proposition.
In order to bring back its solid leadership, Joyce and her team brought the fight back to where SOLMUX had the advantage: functional credentials against phlegm. Apart from defending SOLMUX' safety credentials, Joyce constantly revitalized product stories and used both functional and emotional levers to heighten relevance of SOLMUX' phlegm proposition.
Joyce took SOLMUX from strength to strength by deeply analyzing the science behind SOLMUX' product actions and continuously churning out new interpretations, despite the absence of any product innovation. These reinforced SOLMUX as the "Da One" in efficacy, speed and doctor recommendation, not just above-the-line, but even in trade and activations.
After these campaigns, SOLMUX regained and further increased IMS market shares from 2010 to 2013, with double-digit sales CAGR from 2010-2013, and BUMO/usage shares up double-digit from 2010 to 2013. Under her watch, SOLMUX achieved highest-ever scores in several brand health measures, while reducing competition to their lowest-ever BUMO share. With these, Joyce continues to believe that it is important to continuously uncover knowledge about your own product and combine it creatively with a deep understanding of your consumer, in order to drive growth and weather competitive challenges.

Jonathan C. Laguitao
Trade Marketing Manager Johnson & Johnson Philippines
Mansmith YMMA Awardee for Customer Development
---
Jon started with Johnson & Johnson in 2007 as a Management Trainee. In 2009, he was sent to North Luzon as Distributor Manager, handling various sites with increasing business size and complexity. Being new in the area, he was forced to fast track his learning and adaptation of the local culture. His team reorganized the area deployment, empowered execution and built close retailer partnerships. As a result, they bagged the Distributor of the Year Award. These efforts also allowed Jon to win the J&J Best In-Store Excellence Award and Man of the Year Award.
In September 2010, Jon was sent to Seoul, Korea as Customer Development Manager for Skincare and Tesco to understand the Korea skincare market and transfer their best practices in the Philippines. He also led a promotions strategy project with Tesco which resulted to 130% improvement in ROI on promo spend. When he returned in 2011 as Sr. Trade Category Manager for Adult Skincare, he re-launched the beauty business with a new model and strategy. Despite being a new player in a hyper-competitive skincare category, they improved consumer penetration and basket size by 16% and grew the Neutrogena business by 40%, the fastest growing J&J brand in 2011. Because of these results, their team won the J&J Global Marketing Award for Best Business Model, besting entries from around the world.
At the start of 2012, he was sent back to the field as an Area Sales Manager for the Visayas Region to turnaround years of decline and deteriorating employee morale. Together with the J&J leadership team, they launched the "In-to-Win in VisMin" program. Visayas now is one of the fastest growing regions. Jon ended the role on a good note with the highest employee engagement and leadership scores across the J&J PH enterprise at 93%.
Upon completing the Visayas turnaround, he was sent back to Manila in 2013 as Trade Marketing Manager for Women's Health. At that time, the brand and category was challenged. By closely working with consumers and shopper, they were able to launch a new product which appealed to the middle-class consumer. They also focused on Brand Ambassadors to intercept consumers at point of sale. Their innovative efforts resulted to winning a J&J Asia-Pacific Award on Best In-Store Execution.
In 2014, they continue to put efforts in growing the total pad category by delivering real value to shoppers and closely partnering with retailers. As of August 2014, Modess is now back to growth after years of decline. His team again won another J&J Asia-Pacific Award on Best In-Store Execution.
Outside work, Jon enjoys competing in Ironman triathlons and run races which has made him an internal fitness advocate in J&J and has helped him in his work by promoting discipline and self-confidence.
In a world of short attention spans and cheap thrills, Jon still believes in enduring qualities such as focus, perseverance, and great leadership that are grounded on trust and excellent work. These are the qualities that have made him successful and the same qualities that he'd like to impart to the young working generation.

---
Aldellyn Lisette C. Po
Franchise Head Sanofi Philippines
Mansmith YMMA Awardee for Brand Management
Aldellyn currently works as Franchise Head for total Lactacyd family, which includes marketing functions for Lactacyd Feminine Hygiene lines and Lactacyd Baby Bath lines as well as trade marketing.
Aldellyn started her career in Sanofi as Product Manager handling Lactacyd Feminine Hygiene line and Flagyl, an ethical brand promoted strictly to doctors. As Product Manager, she was in charge of creating marketing plans for both consumers and doctors for all variants of the total feminine hygiene brand.
For Lactacyd White Intimate, Lactacyd Revitalize and Lactacyd Cool & Fresh, Aldellyn was the lead in the Philippines in mining insights and translating them to product benefits. She headed crafting the communication strategy, together with their creative and media agency, to ensure bigness and success of the launch.
In 2011, Lactacyd faced major challenges as it started to suffer decline in shares due to competitor's aggressive advertising spend. Competitor started to banner their innovative variant which Lactacyd did not have an answer for.
Based on market research and consumer interviews, it was evident that consumers' needs have evolved beyond basic cleansing as evidenced in other personal care. For feminine wash, basic cleansing is already a staple, and it is what consumers expect in all feminine wash brands. It has now became imperative for Lactacyd to create an innovation that will answer consumers' unmet need and start to reinvent the brand image to attract younger users as well. Armed with the objective to launch a product that will address consumers' unmet need, Aldellyn and her team launched Lactacyd White Intimate, the first whitening feminine wash in the Philippines. They launched a 360 degree marketing campaign to create awareness and trial, veering away from its traditional image.
Because of the launch, 2012 total brand target exceed by 12% and grew the brand by 21% vs. previous year. 2013 total brand target was also exceeded by 5% and grew the brand by 16% vs. previous year. Aldellyn and her team turned around the negative performance of Lactacyd, and ended 2012 at +3% with 41% market share. In 2013, Lactacyd remained stable at -1% despite category decline of -9% and gaining three market share points at 44%.
Aldellyn learned that correct innovation is key to manage a brand's life cycle and she believes that consumer should be at the heart of all brand efforts as it is imperative to always touch-base with them.

---
Earl Martin S. Valencia
President/Co-founder IdeaSpace Foundation, Inc.
Mansmith YMMA Awardee for Innovation
Earl co-founded the IdeaSpace Foundation, Inc. with Chief Information Officer of Meralco Marthyn Cuan in March 2012 after moving back to the Philippines from Cisco's Emerging Technologies Group at the Silicon Valley Global Headquarters. IdeaSpace was set up with the aim of revolutionizing science, technology and entrepreneurship in the Philippines, a vision he shared with Chairman Manuel Pangilinan and the different CEOs of the First Pacific Group who committed P500 Million to fund the incubator program.
Starting in June 2012, Earl became the President of the IdeaSpace Foundation, taking over from the initial President and Chairman, Manuel V. Pangilinan. He has a dual appointment with Smart Communications as the Vice President of Corporate Development and Innovation. A number of key partnerships have been closed between IdeaSpace and global incubators/venture funds/companies, universities, government agencies and mentors. Some partners now include the Intellectual Property Office, the Department of Science and Technology, Microsoft, Amazon, National Instruments, Netsuite, Asian Institute of Management, Harvard Business School, MIT Sloan School, Stanford Graduate School of Business and Freelancer.com.
To encourage thousands of students to explore opportunities with a science and technology-based entrepreneurial mindset, they conducted or sponsored over 100 events with a total audience of 150,000 including the "Geeks on a Beach" – the national start-up conference of the Philippines and "Geeks on a Plane" – where 30 technology investors, mostly from Silicon Valley, visited Manila. IdeaSpace Foundation has currently incubated and funded 28 start-up companies ranging from healthcare, clean tech, water purification, data analytics and transportation, making it one of the most active early stage investors in the Philippines. IdeaSpace companies have filed 6 invention patents.
As a Stanford MBA graduate, Earl also created linkages from the Philippines directly to Silicon Valley by making SMART a member of the Telecom council of Silicon Valley, the only Filipino telecom and second in Southeast Asia to be part of the council. He also co-led the development of the IdeaSpace Foundation (USA) and the First Pacific Innovation Office in San Francisco, CA, the first Filipino private sector corporation that has an Innovation-focused office in Silicon Valley.
IdeaSpace start-ups garnered international recognition in 2013 including the top 6 start-ups by IBM Smart Camp (WeGen Wind turbine), the ITU Young Innovator of the Year (Tudlo) and also had International Recognition in 2014 which included ASEAN Young Entrepreneurs Summit in Bangkok (FlipTrip and NYFTI), IBM Smart Camp ASEAN Runner-up (Real Time Adjusting Pump) and Global Entrepreneurship Week Startup Nations Top 4 out of 50 countries and People's Choice Award (SALt.ph). IdeaSpace also received several awards and recognitions: three Anvil Awards, two Quills and the Intellectual Property Office IP Champion (only private sector foundation).
With his work in the intersection of business, technology and economic development, Earl received individual honors and awards such as, a 2014 Young Global Leader of the World Economic Forum (Switzerland), 2013 Manila 40 under 40 Leaders in International Development by DevEx and Chevron, 2013 and 2010 Intel Science and Engineering Fair Grand Award Judge for the Energy and Transportation Category (Phoenix and San Jose), and has given presentations about IdeaSpace in both Harvard and Stanford.

---
Kristine F. Venturina
Trade Marketing Manager Johnson & Johnson International Singapore
Mansmith YMMA Awardee for Trade Marketing
Tintin joined Johnson & Johnson in 2009 as Trade Category Manager of the two newly acquired businesses of the company (Oral, Wound and OTC). J&J cultivated Tintin's creative & innovative mind in creating category strategies and solutions where she 1) Co-authored the go-to-market strategies and plans for OTC and Listerine, 2) Co-developed training modules/model including fixing merchandising & promo processes, and 3) Led and crafted the Profit Story in growing total Oral Care through Listerine, which became the guideline of other Asia Pacific markets not just the Philippines.
Her two-year stint was recognized by J&J Worldwide through the prestigious James Burke Awards as Best in Shopper Marketing Excellence in Bringing OTC closer to the shoppers in 2011 after winning the Asia Pacific leg for Best in In-store Excellence for Oral Care in 2010.
She assumed a bigger role as Trade Marketing Manager handling the biggest franchise, Johnson's Baby. Johnson's Baby remains to be a dominant leader in the Philippines in 8 different categories, as such, should always aim to protect its leadership, and be steps ahead in growing total category. The team made sure to craft the retail profit stories to convince retailers that Johnson's is the right partner to grow their businesses with. A few of the category building stories led by Tin are: 1) Make your store a mommy and baby destination, 2) Profit story growing total cleansing through bath and, 3) Growing powder by driving quality recruitment and delay lapse.
Other quick wins that the team achieved were 1) Presence – expanding reach of JB products not only in areas where they are expected to be placed but also in areas where they can "hijack" moms (diapers, milk, soap), 2) Shopper Tested Strategies and Solutions – interruptive and/or habit questioning merchandising and promos, and 3) Brand Ambassadors – stringent measurable quality engagement through product experience and education. With these, Johnson's Baby achieved commendable double digit growth including increased penetration especially in the supermarket channel.
The team also maximized big campaigns at the final moment of purchase, in-store, that revolved around 1) Advocating play to promote the regimen/focused products, 2) Increasing usage by encouraging moms to make mundane activities a signature of their love 3) Triple Baby Protect Seal Launch assuring moms of commitment of JB in providing nothing but the best for their babies. These campaigns showed improvements in sales for total franchise even for a mature category as powder performing on an uptrend of 13% coming from a challenging start.
One of the strong visions of the team is to become Sales Teams allies being the top of mind partners of retailers in business building projects tailorfitting opportunities to the sophistication of their shoppers. The team has been working closely especially with Robinsons & Puregold – getting more intimate with their shoppers through studies and program pilots. All these with the intent to not only grow JB but also other baby categories relevant to moms and helping the account become a real shopping destination of moms sharing a joint scorecard with retailers.