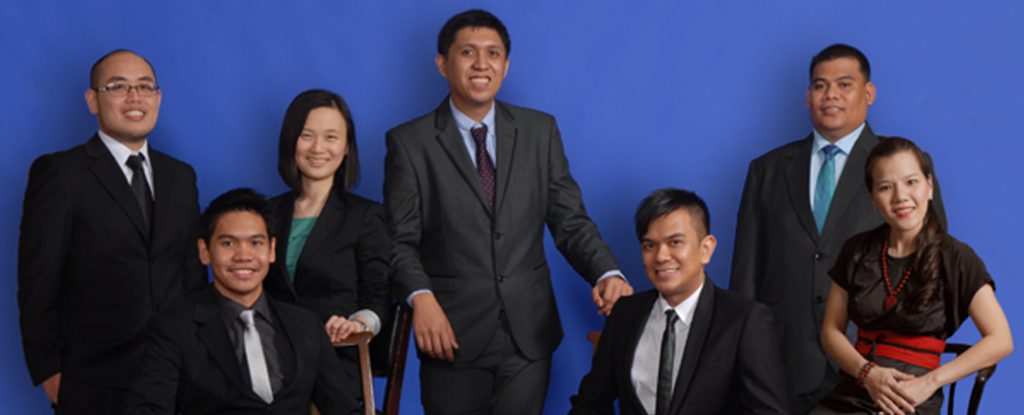 Meet the Awardees
---
Giovanni P. Bogasan
Business Development Manager GQWEST Inc. / Aquabest
Mansmith YMMA Awardee for Business Development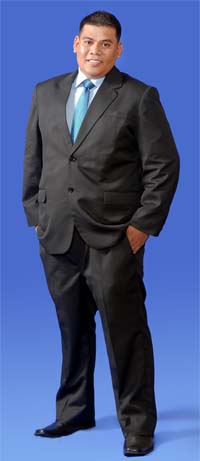 Giovanni has been with GQWEST Inc. since 2006 as Business Development Manager. He immediately introduced the practice of giving a sales and industry orientation to prospective franchisees based on his observation that most water franchises at the time gave franchisees little to no presales orientation, leaving the franchisees largely unaware of most aspects of the business. This practice gave prospective franchisees a better understanding of the potential for the business, increasing the sign-up rate exponentially. Under his watch, the company grew from just a handful of stores to more than 700 stores as of August 2011 where 70% were personally signed-up by him. Another effort by Giovanni to encourage additional franchisees is the establishment of in-house financing to make securing a franchise easier especially to those who have limited budget. Giovanni did not want the company to just simply rely on its franchising business so he set-up an industrial section to leverage the company's experience in designing water treatment systems to local governments and large corporations and an institutional department to generate strong sales for franchisees and the company owned stores. He also worked with the marketing department to develop spin off brands to cater to differing market segments which is helping diversify the company's income sources, one of which is the company's bottled water line sold nationwide. As the company grew so did Giovanni's responsibilities as he managed the company's sales force which sells over a hundred franchises per year. Seeing opportunities beyond Metro Manila, he spearheaded the company's provincial expansion setting up regional offices in Davao. This allowed them to leapfrog ahead of their competitors in terms of store presence outside Metro Manila. After its successful provincial expansion efforts, Giovanni is now forming plans for the company's overseas expansion. Among Giovanni's current projects is the "Shift Happens" Campaign which is the company's response to a paradigm shift about to happen where added value and not price would be the primary motivator of the consumer. As a result of this campaign, he developed the Aquabest 3- in-1 Combostore franchise concept. The Combostore is a first in Philippine franchise history offering three distinct concepts combined into one (Aquabest, Laundrybest and Oxyplus). Individually, these brands are all very successful and widely known; together they form a revolutionary and holistic way of looking at the water franchise industry. The Combostore triples the franchisees' opportunities and chances for success without individually investing in the three brands. This concept also offers a faster return period and better margins as this maximizes the use of every resource from the water to the manpower of each store. In Giovanni's almost six years with Aquabest, he has helped transform the company from a marginal player in the water franchising industry to the dominant powerhouse it is today. Despite this, he refuses to rest on his laurels and he is continuing to set his sights on even greater goals that will bring the company to even greater heights.
---
Ilustre M. Estrada II
Country Marketing Manager Procter & Gamble Philippines
Mansmith YMMA Awardee for Marketing Management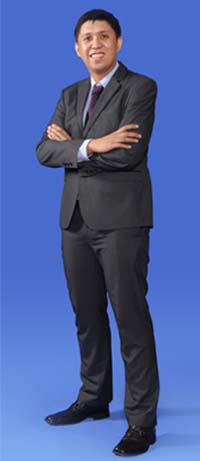 Ilustre M. Estrada II is Procter & Gamble Philippines' youngest Country Marketing Manager today, leading six out of the company's 17 core brands. Aside from handling the paper brands (Pampers and Whisper), he also manages the "explode" brands: Duracell, Oral-B, Vicks, Gillette and Olay for Men. With an understanding of consumer loyalty in tough economic times, Lester steered Pampers through its toughest year in 2009. Cheaper brands had grabbed a greater share of the market, but instead of simply taking a major price cut to compete, the team went on the field. They discovered that moms will ultimately spend less by choosing Pampers-the slightly more expensive brand-over the cheaper yet less absorbent diapers. This became the genesis of the "1 Pampers Better than 2 Ordinary Diapers" campaign. Lester delivered innovations by identifying the right touchpoints so that mothers were matched to the variant of Pampers appropriate to their needs. He initiated the Hospital Trial Program as a Point of Market Entry for new moms to try Pampers. He introduced variants through birthing centers, such as Active Baby to private hospitals and Pampers Comfort to public hospitals and rural areas. Another revolutionary touchpoint was health centers, through which Pampers was able to reach 25 percent of mothers who gave birth at home. The successful creation of new channels to establish brand equity was also achieved with Whisper. As with Pampers, efforts here exceeded expectations. Lester successfully qualified the School Sampling Program, which encouraged young teens to try Whisper. He also designed the initiative for Whisper's new Cottony Clean variant to be more than a line extension, but rather a restage of total Whisper under a superiority claim of "Circles of Protection" and added value. With these programs, fiscal year 2010-2011 ended on a record high for both Pampers and Whisper. Whisper enjoyed its highest shipment in 18 years, while Pampers achieved its highest shipment ever. While successfully delivering programs for Pampers and Whisper, Lester was also qualifying launch models to bring "explode" brands to the forefront. Gillette, Oral-B and Vicks were historically deemed as "non-core" brands for P&G Philippines, given the relatively small categories of blades and razors, toothbrushes and ointments in the country. On auto-pilot for the past five years, these brands did not have dedicated marketing support. The global and regional team, through Lester's leadership, infused more investment into programs that will grow the brands by 20-30 percent across the board. These brands are now on track to becoming the fastest growing brands within the Philippine organization as well as the Asia franchises. These developments reversed the declining computed average growth rates for Gillette and Oral-B in fiscal year 2010-2011; both brands finished with double-digit growth rates vs. a year ago. Lester defined and designed growth opportunities and strategies for his brands by understanding consumer barriers, developing the right claim, and driving the claim in the right touchpoints.
---
Julie L. Lee
Sr. Brand Marketing Manager Collins International Trading Corp.
Mansmith YMMA Awardee for Business Development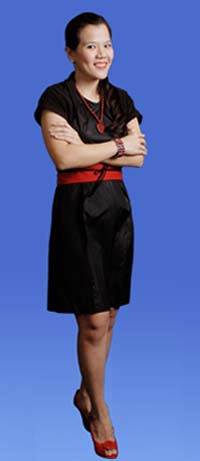 Julie joined Collins International in 2003 and became part of the "medical evolution" group under OMRON Healthcare (medical healthcare products). Because of the nature of their products being digital, they have encountered numerous obstacles such as product awareness, distribution network and acceptance of professional doctors. It took them years and continuous marketing efforts to finally convince the market and the doctors on the accuracy of their products as a safer alternative to mercurial products. They have worked with several associations and the most prominent partner they have is the Philippine Society of Hypertension (PSH). Julie personally worked hand-in-hand with the PSH President in the validation and accreditation of their Digital Blood Pressure Monitors. She launched the partnership successfully to the public by means of numerous PR and promotional activities, one of which is the Trade-In Promo, which then resulted to the high brand awareness, huge sales improvement of the product category and further achieving 75% market share for blood pressure monitors in the Philippine market in 2009. As a sign of trust over the brand's accuracy, the partnership continued and in 2010 PSH validated and accredited yet three more Digital Blood Pressure Monitors. And because of Julie and her team's continuous support to the association, they were given the "Presidential Award 2010" for being a valuable partner in campaigning for the accuracy of digital blood pressure monitoring devices for the prevention of hypertension. The partnership with PSH eventually led to the development of several other partners, one of which is Healthcare without Harm (HCWH), a non-profit organization that promotes healthcare that does no harm to living things and the environment. Julie approached and proposed for a collaboration campaign, highlighting their digital products as one of the alternatives for the phase out of mercury containing devices. Having conceptualized the "Mercury Free Healthcare" campaign with HCWH, she also invited and convinced Watsons Personal Care store to join the partnership. Together with Watsons, HCWH, PSH and DOH, they launched a full scale "Mercury Free Healthcare" campaign increasing the awareness on the hazardous effects of mercury exposure and introduced OMRON Healthcare products as one of the alternatives available in the market. Julie further developed the partnership and formulated series of promotional activities such as the Hypertension Month Sale and Mercury Free Health Fairs, gaining higher demand for their digital blood pressure monitors and digital thermometers. Watsons recognized them with the "Best Category Building Campaign for Health of the Year 2010 for Mercury Free Healthcare". Coming from an appliance industry background, the development of the brand OMRON Healthcare in the medical industry proves to be very challenging but has been a fruitful journey. Julie has gained a lot of trust and respect from different sectors of the medical industry such as the medical associations, wholesalers, drugstore chains, hospitals and of course, with the doctors.
---
Christian G. Lim
Internet Solutions Category Head PLDT
Mansmith YMMA Awardee for Marketing Management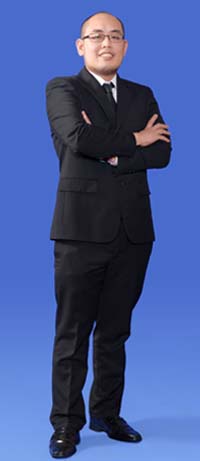 As the Internet Solutions Category Head of PLDT SME Group Marketing, Christian oversees all the strategy development, product enhancement/innovation, and marketing of all Internet Solutions of PLDT for the SME market namely: PLDT myDSL Biz, PLDT Negosyo Boost, PLDT CheckOut and PLDT Watcher. He is also part of the core team that launched the first thematic campaign of PLDT SME Nation in the market dubbed as "Bossing Ako", specifically managing the creative development and implementation of the above-the-line and non-traditional campaign executions. Christian and his team grew PLDT myDSL Biz portfolio revenue by P740+ Million since 2008 to 2011 with yearend annual revenue of P1.44 billion by: (1) Enhancing and replacing the base plan worth P3,000 with a P4,000 ARPU package justified through speed increases (without closed deals or volume decline); and (2) by pioneering the bundling of not just hardware but software applications (Security Software Suite – SSS) and online managed services (Online Office Suite – OOS) with business internet connectivity. He launched an innovative entry level complete communication bundle for the SME market dubbed as PLDT Negosyo Boost. Through this, they were able to package strategically different wired and wireless bundles to cater to the needs of SMEs in different industries together with hardware and software bundles. Since its market launch last 2010, its' base revenue is ended at P213 Million or 228% growth by December 2011. As an addition to the growing services of PLDT for the SME Market, Christian and his team developed and launched "PLDT Watcher" in 2009, the first online and mobile video monitoring solution in the country that enables SMEs to check and oversee their business operations anywhere via the Internet, which had an annual revenue of P25 Million by yearend of 2011. In the 2nd quarter of 2011, through collaboration with partner ICT companies, he and his team launched the first Online Point-of-Sale (POS) system in the country, PLDT CheckOut, an innovative POS service that allows SMEs to process their sales, have revenue analytics, manage inventory, and remotely monitor their businesses online. The "Bossing Ako" campaign which he is a key part of serves as an umbrella campaign to communicate various ICT services of PLDT for the SME segment. This culminated in the MVP Bossing Awards, the first Awards search for the Best SMEs in the country today that features Top Bossings in the country with their success stories and how they use the specific technologies of PLDT to grow their businesses. This campaign enabled the company to penetrate further and own the SME telco business and aids in hitting their 2010 and 2011 annual revenue target. In summary, Christian and his team were able to launch a series of ingenious Internet, Software, and Hardware bundles through the latest technology available to connect small and medium-sized businesses to their suppliers, customers and to their global counterparts. With a wide range of solutions and services that are created for the special needs of entrepreneurs, Christian is considered one of the most prolific innovators and business strategist in PLDT.
---
Kristine Joanne C. Tang
Regional Brand Manager, Downy Procter & Gamble
Mansmith YMMA Awardee for Brand Management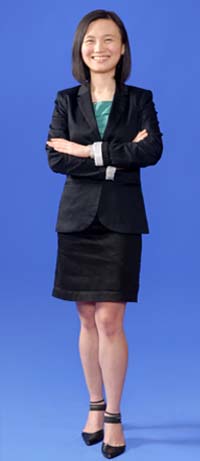 Kristine has worked over six years in P&G´s Fabric & Home Care category. She has successfully led the Tide team in creating a marketing plan built on consumer and customer insights to deliver overall business objectives and strategies, and has led Downy´s multi-functional team. Kristine managed Tide Philippines as Assistant Brand Manager. She has successfully led Tide Philippines´ turnaround with the brand growing on all key business and equity measures-resulting in strong volume & shares and increase in brand trial/penetration. Tide Philippines´ growth was behind a holistic turnaround plan focused on driving total Tide line-up. After her Tide assignment, Kristine moved to her new role as the Downy Regional Brand Manager.
---
Neil T. Trinidad
Sr. Global Brand Manager, Pond's Previously Sr. Regional Brand Manager, Rexona Asia Unilever Asia Private Limited
Mansmith YMMA Awardee for Brand Management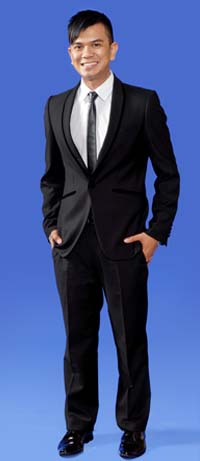 The work that Neil has done for Rexona shows that simple, single-minded ideas have the power to travel the world. Neil is home grown Unilever talent. Having started as a young, passionate trainee in 2004, he joined the Asia Regional Deodorants Team and handled the world's #1 deodorant brand, Rexona. In his 7 years on the brand, Neil developed numerous innovations and campaigns that would grow the deodorant category in Asia and strengthen Rexona's leadership in the region. With only 1 out of 10 people using a deodorant in Asia, the brand team had a pioneering mission to get more people to use a deodorant as part of their daily hygiene regimen. Their mantra was to build the confidence of men and women all around the world, two underarms at a time! The Rexona Dryness Challenge was a campaign geared at converting non-deodorant users. When it comes to deodorants, the category is shrouded in denial. The breakthrough idea was a simple but powerful objective proof device that showed people that they actually do sweat. The Sweat Strip device changed color from yellow to blue when it came into contact with sweat, demonstrating the compelling need for Rexona's top efficacy protection. This was developed into an exciting, full-blown campaign that dared women to take the Rexona Dryness Challenge. Originally planned to be a South East Asia launch, the Rexona Dryness Challenge went global, launching across 20+ countries in China, North East Asia, South Asia, the Middle East and Africa. The results have been outstanding. Rexona increased deodorant penetration and catapulted Rexona to its highest market share in Indonesia, drove Malaysia to its highest market share and allowed Rexona to overtake the long-established leading competitor in Turkey. Another successful regional project that went global was the launch of New Rexona Shower Clean. In South East Asia, deodorant use is occasional and rooted in the mindset that "every day bathing is enough to keep me fresh all day." However, after intensive consumer research, the team learned that women were actually dissatisfied that their shower freshness would fade as the day goes by, especially when they started to sweat. Armed with this key insight, Neil led his team to develop a new variant that could extend this shower freshness feeling all day long. Hence, New Rexona Shower Clean was born. The idea of long lasting shower freshness was translated into a world-class innovation comprised of a winning shower fresh fragrance, outstanding packaging design and a disruptive, entertaining ad campaign that was launched across Asia. Rexona Shower Clean has since gone global, launching in the Middle East, Africa, Western Europe and South America. To date, the variant has become one of the brand's fastest growing variants. It gained 2.5% share in Vietnam and Malaysia after just 3 months, grew to become the #2 variant in Germany and #3 variant in Mexico and now contributes almost 20% of the brand in Greece. The work that Neil has led, such as the Rexona Dryness Challenge and Rexona Shower Clean, which started off as Asia-specific projects have grown to become some of Rexona's biggest global launches, proving that simple ideas, well executed, have the power to travel the world.
Jonathan Allen S. Yabut
Sr. Product Manager Urology Division GlaxoSmithKline Philippines
Mansmith YMMA Awardee for Brand Management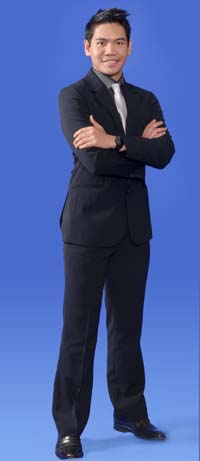 As the Sr. Product Manager of GlaxoSmithKline Philippines, Jonathan took on the task of revitalizing GSK's Urology business through a breakthrough drug targeting Benign Prostatic Hyperplasia (BPH) or "prostate enlargement", a disease affecting 1 out of 2 elderly males worldwide. Jonathan's challenge was beyond introducing a new brand in the market—he had to gain acceptance for an entirely new drug category that required changing the disease knowledge and medical approach of doctors from traditional monotherapy to combination drug therapy. Jonathan therefore embarked on a 4-Pillar Strategy in shaping the market: 1.) Expand reach of medical representatives beyond urologists by introducing the approach to general practitioners and internists who actively treat BPH, 2.) Highlight the superiority of combination therapy vs. monotherapy, 3.) Ensure patients are able to afford combination therapy through affordable pricing, and 4.) Position combination therapy as first-line treatment for BPH. In 2010, Jonathan prepared the market by re-launching Avodart® under a new indication of combination therapy. GSK's Avodart has been in the market with limited success since 2004, ranking only 4th in volume share (8%) & 7th in prescription share (9%). Deriving from a market research study that price was the main barrier for combination therapy, Jonathan became instrumental in Avodart's 40% price reduction—making it as affordable as generic brands but with superior efficacy. In 3 months, Avodart became the #1 most prescribed BPH medication in Dec 2010 and continues to become the prescription leader today, outpacing the former top 3 a-blockers in the market. GSK Philippines was recognized globally with the highest Avodart market share, beating 30 other GSK markets in USA and Europe. After Avodart's re-launch success, Jonathan widened further GSK's leadership in 2011 by launching in Duodart®, a fixed-dose combination of Avodart with another BPH drug. Duodart's campaign focused on efficacy differentiation, highlighting its superior ability to not just treat BPH as most drugs do, but help prevent it as well. Duodart achieved a volume share of 8.8% in just 4 months after launch and GSK Philippines was again recognized globally with one of the fastest volume share uptake, beating 20 other GSK markets in USA and Europe. Jonathan also tapped electronic communication to ensure that no doctor is left behind in expanding reach. A campaign via Internet and digital media was used in the launch of E-UROLOGY in 2009 – the first and only electronic library of BPH modules and lectures to 1,000 MDs nationwide. The objective was to educate doctors especially general practitioners on the use of combination therapy in provincial areas with no medical representatives and for doctors who are challenged to attend scientific lectures due to geographical or time constraints. E-Urology earned the 2010 Gold Merit Project of the Year Award and has been replicated by other business units in GSK Philippines, and the Asia-Pacific region. Finally, Jonathan broke traditional barriers when he conducted Duodart's Grand Launch via webcast streaming. A scientific lecture was conducted live in Manila and then simultaneously broadcasted to 3 other remote sites featuring interactive Q&A sessions among doctors in Cebu, Davao and Manila-another first in GSK history. In one night, Jonathan successfully launched Duodart to over 1,200 doctors which would normally take one to two months. With all of these, GSK Urology Portfolio's sales strengthened GSK's volume leadership with 30% volume share in 2011 from only 7% in 2007. With a brilliant combination of customer-driven strategy and innovative execution, Jonathan has successfully established GSK Philippines as the country's leader in the urology pharmaceutical business.